Although a quartet only needs 4 musicians to perform, it requires more than that to provide a year-round service.
Illnesses, work commitments, other musical projects and family commitments can leave us short handed at the most inopportune moments which is why we work with a number of musicians to ensure we can always pull together a team.
Here are a few of our key musicians:
Strings
---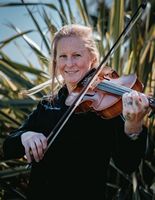 Terri O'Donoghue
Having started on the piano at the age of 5, Terri took up the flute at the age of 8 and by the age of 9 years old was also learning violin. In recent years she has also turned her hand to drums on occasions, can play guitar and has learned to play the harp.
As a young teenager, Terri attended boarding school on a music scholarship where she was introduced to the viola for a brief period and returned to Jersey at 15 to complete her education.
Terri later obtained grade 8 Viola, performers' diploma on Piano and an honours degree at the London College of Music, before moving on to Kingston University where she studied a Post Graduate Certificate of Education in music. She returned to Jersey in 1997 for a summer holiday with the intention of returning to London to pursue a career in music, however ended up staying in Jersey to teach piano. Since her return, she has been a classroom music teacher but has also taught the piano, violin and viola both privately and in several schools. She currently teaches piano, violin and viola at Beaulieu Convent where she has been involved in many of their musical productions. In the summer of 2019, Terri took her ARSM Diploma on viola.
Her local performing credits are just as impressive. She has been involved in a multitude of performing work, including the Jersey Symphony Orchestra, the St Cecilia Guild of Strings, the Jersey Chamber Orchestra, a local Irish Folk Rock Band Run for Cover, The Jersey Bounce, the St Martin's Old Thyme Music Hall, the First Tower School of Dancing and a small choral group The Songsmiths.
Terri has also been the Musical Director for the Green Room Club as well as founding and running the No Strings Attached Quartet.
Terri's biggest claim to fame so far is playing violin and viola on Shayne Ward's single "Gotta Be Somebody" which was released on 7th November 2010.
Terri currently plays keyboards for Inside Job and plays violin with the band Badlabeques who help promote Jèrriais in Jersey. Terri also sings with The Aureole Choir who provide regular performances at various nursing homes in Jersey.
---

Vanessa Moore
Leaving school, Vanessa studied Music and English at St Mark and St John's Teacher Training College, London. Subsequently, she taught violin and piano in London, Hackney as well as becoming a Special Needs teacher. Vanessa played violin as part of the resident band at Epping folk club over this time. Moving to Sidcot School in Somerset, and as assistant housemistress, she continued to teach violin and piano as well as class music also setting up a folk club there.
Next, living in Bath , she continued to teach, violin/viola and piano peripatetic in Primary and Secondary Bath and Bristol schools, and was involved in the emerging folk/ ethnic music scene there , as well as with the Bath Festival. Living near Cheddar in the Mendips, she continued to pursue love of folk music and roots genre, once again joining a ceilidh band (the Old Fox Band), and helped to set up an Irish Music Saturday School (mainly adults ) in Avonmouth, Bristol. Vanessa also took part in quartets and classical ensembles. During this time she completed a Suzuki violin teacher training Course in London.
Returning to Jersey, Vanessa has continued teaching initially with Jersey Music Service, and now with the Jersey Academy of Music. She has enjoyed playing in Jersey Chamber Orchestra, the Jersey Sinfonietta and the Jersey Symphony orchestra, as well as No Strings Attached Quartet.
Having given performances of Music with Poetry, Vanessa is interested in using music as a means of communication, – being part of the Jerriais experience playing in Badlabecques has also helped to develop this link.
---

Rachel Sinfield
Rachel Sinfield was born and educated in London. She began learning the Piano from the age of 4 and later the Violin at 6. Whilst studying the Violin at school, Rachel played in and later became the leader of the Goldsmiths and Bexley Youth Orchestras and toured around France, Germany and the Czech Republic with them. By the time she left school, Rachel had achieved Grade 8 on the Violin and Grade 7 on the Piano and gained a place at the Royal Welsh College of Music and Drama to study Music. Rachel continued to study the Violin under the pupillage of the Associate Principal Leader of the BBC National Orchestra of Wales, and took part on a placement scheme with the BBC NOW. She also performed in the College Symphony Orchestra and String Ensemble which toured to Belgium and formed a String Quartet and Piano Trio.
Rachel continued to study after leaving University and completed her Postgraduate Certificate of Education at the Institute of Education in London. She has since worked in a variety of schools in Nottingham and London, both as a violin teacher and class teacher. She moved to Jersey in August 2005 and is currently working as a music teacher in a secondary school. Rachel began playing with No Strings Attached in July 2007.
---

Graham Boxall
Without at that time being aware of the immense amount of enduring and therapeutic pleasure that playing an instrument can bring, Graham was encouraged to learn the cello at a time when his school orchestra in Exeter had a shortage of the lower strings. Thereafter, a degree in classics and calls to the Bars of England and Jersey resulted in diversion into teaching classics at the Jersey College for Girls for a while, followed by a long career as an advocate in private practice in Jersey. But the enthusiastic amateur musician in him resurfaced in his middle years, especially after injury put a stop to his role in representing Jersey as a rugby lock forward. A spell as chairman of the Jersey Symphony Orchestra cemented his connection with the music scene in the island, and ever since then he has been happy to take advantage of all and any opportunities to play, with all kinds of chamber music being a particular love.
---